28. L. Baronti, I. Guzzetti†, P. Ebrahimi†, S. Friebe Sandoz†, E. Steiner†, J. Schlagnitweit, B. Fromm, L. Silva, C. Fontana, A. Chen and K. Petzold "Base-pair conformational switch modulates miR-34a targeting of Sirt1 mRNA" Nature 2020, doi: 10.1038/s41586-020-2336-3
† These people contributed equally
News & Views: "From transient recognition to efficient silencing: a RISCky business"
27. H. Karlsson, L. Baronti and 
K. Petzold
 "
A robust and versatile method for production and purification of large-scale RNA samples for structural biology
" 
RNA
2020
, doi: 10.1261/rna.075697.120
26. H. Feyrer, R. Munteanu, L. Baronti and 
K. Petzold
 "
One-Pot Production of RNA in High Yield and Purity Through Cleaving Tandem Transcripts
" 
Molecules
2020
, 
25
(5), 1142.
25.
P. Ebrahimi, S.Kaur, L. Baronti, K. Petzold  and A. Chen 
"
A two-dimensional Replica-Exchange Molecular Dynamics method for simulating RNA folding using sparse experimental restraints" Methods 162-163:96-107, 2019

24.
M. Marušić,
J. Schlagnitweit and 

K. Petzold 
"RNA dynamics by NMR
"  .

ChemBioChem

2019

,

20

,1–27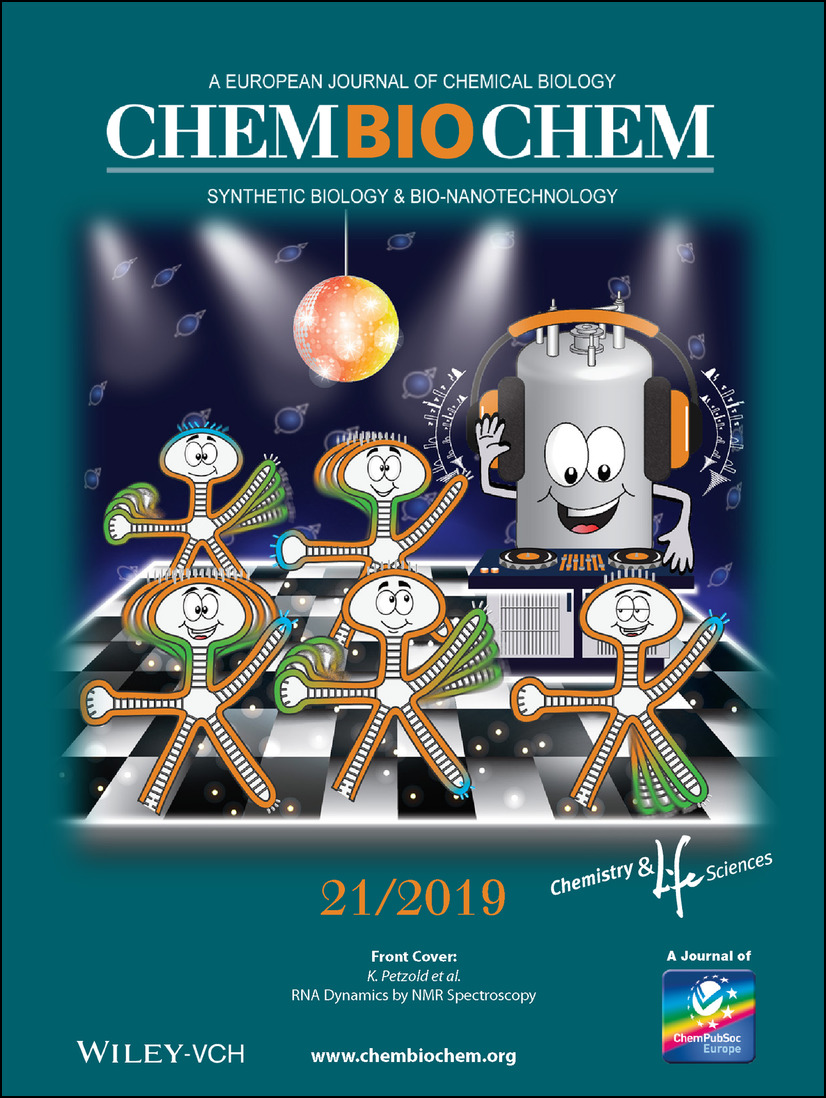 23. J. Schlagnitweit, S. Friebe Sandoz, A. Jaworski, I. Guzzetti, F. Aussenac, R. J. Carbajo, E. Chiarparin, A. J. Pell and K. Petzold*, "Observing an antisense drug complex in intact human cells by in-cell NMR". ChemBioChem, 20(19): 2474-2478, 2019
22. J. Schlagnitweit, E. Steiner, H. Karlsson and K. Petzold "Efficient detection of structure and dynamics in unlabeled RNAs: the SELOPE approach" Chemistry – A European Journal; 24(23):6067-6070, 2018.
21. L. Baronti, H.Karlsson, M. Marušić, K. Petzold  "A guide to large-scale RNA sample preparation" Analytical and Bioanalytical Chemistry, 1-14 Volume 410, Issue 14, pp 3239–3252, 2018
20. M. Niklasson, R. Otten, A. Ahlner†, C. Andresen†, J. Schlagnitweit†, K. Petzold and P. Lundström "Comprehensive analysis of NMR data using advanced line shape fitting" J Biomol NMR  69: pp 93-99, 2017.
† These people contributed equally
19. Steiner E., Schlagnitweit J., Lundström P. and Petzold K. "Capturing Excited States in the Fast-Intermediate Exchange Time-Limit in Biological Systems Using 1H NMR Spectroscopy", Angew Chem Int Edit 2016, 55 (51), 15869–15872, 2016.    
18. Salmon L, Giambaşu GM, Nikolova EN, Petzold K, Bhattacharya A, Case DA, Al-Hashimi HM. "Modulating RNA Alignment Using Directional Dynamic Kinks: Application in Determining an Atomic-Resolution Ensemble for a Hairpin using NMR Residual Dipolar Couplings." J Am Chem Soc., 137 (40), pp 12954–12965, 2015
17. I.J. Kimsey, K. Petzold, B. Sathyamoorthy, Z.W. Stein and H.M. Al-Hashimi "Visualizing Transient Watson-Crick Like Mispairs in DNA and RNA Duplexes" Nature, 519 (7543), pp 315-320, 2015
ISI web of knowledge data base: As of March/April 2018, this highly cited paper received enough citations to place it in the top 1% of the academic field of Biology & Biochemistry based on a highly cited threshold for the field and publication year 

16. S.A. Pawar, A.M. Jabgunde,K. Petzold, G.E.M. Maguire, D.D. Dhavale, H.G. Kruger and T.Govender, "Investigation and folding pattern of L-ido and D-gluco peptides by EASY ROESY NMR and X-ray", RSC Advances, 3, 23355- 23369, 2013
15. M.M. Makatini, K. Petzold, C.N. Alves, P.I. Arvidsson, B. Honarparvar, P. Govender,. T. Govender., H.G. Kruger,. Y. Sayed, J. Lameira, G.E.M. Maguire,and M.E.S. Soliman "Synthesis, 2D-NMR and Molecular Modelling Studies of Pentacyclo-Undecane Lactam Peptides and Peptoids as Potential HIV-1 Wild type C-SA Protease Inhibitors", Journal of Enzyme Inhibition And Medicinal Chemistry, 28(1): 78–88, 2013
14. E.A. Dethoff#, K. Petzold#, J. Chugh#, A. Casiano-Negroni and H.M. Al-Hashimi, "Visualizing Transient Low-Populated Structures of RNA", Nature; 491 (7426), pp 724-728, 2012 #shared first Co-Author